Manasi Posted on April 26 2019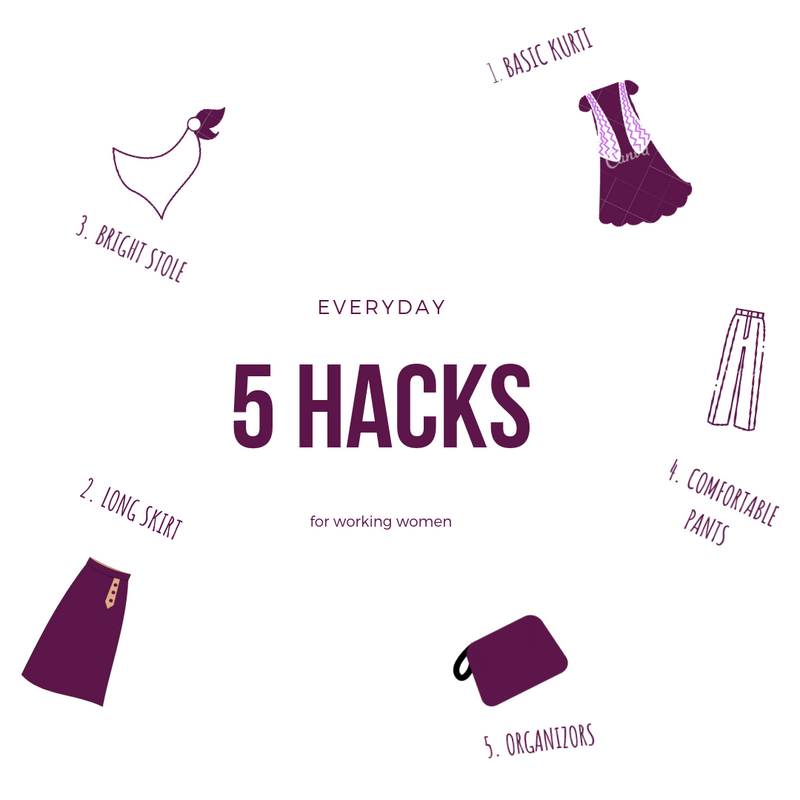 Entering the workforce can be a daunting experience, especially for women -- you want to do well at your job and leave an impression that makes you recognised for the look that you carry.
While men don't have to worry much about their workwear with variations of formal shirts, pants, and dress shoes, women have to navigate through borderline vague guidelines and social rules.
Buying new clothes for everyday of the week can be expensive, but it's also not as easy for women to repeat clothes as often as guys can. The solution, you ask? Invest in everyday workwear essentials that you can easily mix and match to make your mornings easier.
Here are the everyday essentials for working women
1- A minimalist cotton kurta
| | |
| --- | --- |
| A well-fitted kurta that has room to sit comfortably and is thick enough to be flattering and appropriate can become the true saviour you turn to every morning. Kurtas are great because they are fantastic on their own -- All you have to do is pair them with your favourite leggings. On the days when you are running late, but still want to look sophisticated and elegant, there is truly nothing better. Since solid colours are not as memorable as patterns, it makes sense to buy some kurtas in more neutral or muted colours--so that you can use it many times without feeling like anyone is noticing | |
2- Basic white shirt
 

A great basic white shirt with a breezy fabric that is easy to machine wash and doesn't stain quickly can go a long way. You can easily pair it with your formal pants or a pencil skirt when you are going in for a meeting.

For excessively hot summer days, you can pair the white shirt with your favourite ethnic skirt that will leave you feeling breezy and comfortable all through the day

And when winter comes, you can add a jacket over it or a V-neck sweater to keep you warm and yet, extremely formal.
3- Bright Stole
A bright coloured bandhani will not just protect you from the scorching sun as you travel to the office, but it can also help keep you warm as you enter your office with blaring air conditioning.

It is also the best way to accessorize muted kurtas and add a bit of colour to your dress.

What's better? You can also pair the stole with your favourite white tshirt and denims for a weekend lunch with your friends. Indi Moda has beautifully hand painted scarfs that can work well with just about any outfit.
4- Comfortable pants
| | |
| --- | --- |
| Incorporate some much needed comfort and style to your workwear by adding a pair of crisp white chikankari pants to your everyday essentials. You can opt for straight fit cotton pants that are versatile and breathable, which means, you won't feel stuffy whether you have to travel immensely for meetings or sit in the same chair for hours. | |
5- Makeup organisers
For the post-lunch touch ups, get a makeup organiser where you can keep all of your essentials so that you don't have to scourge to the undiscovered ends of your handbag to find your trusted eye liner and compact powder.
You can opt for a beautifully patterned makeup bag like this that is big enough to store all your stuff and yet small enough to easily find a place in your hand bag.